Getting you justice after an accident
You can't plan for an accident, but even if you're not sure who is responsible, IMS Law are here to help.
Our specialist team of accident claim solicitors in St Helens will investigate your case for you, wherever it happened and whether it's against a local authority, retailer or individual.
What kind of accidents can I claim for?
You are able to claim for practically any accident where someone else is at fault for causing your injury. This can happen in a variety of places and situations, but the most common cases we handle include:
Accidents in supermarkets, shops and public spaces
Accidents on private property
Sports injuries or accidents in the gym
Falls due to faulty footpaths or potholes
Car park accidents
Accidents involving children or injuries at school
Infection or allergic reaction to a tattoo or cosmetic treatment
Accidents at work
Looking for criminal injury compensation claims? Check out our dedicated page here.
What should I do if I have an accident?
If you have an accident and suffer an injury, there are some important points to follow which can greatly help your chances of getting the treatment and support you need whilst recovering. By taking these steps, it will strengthen your chances of making a successful claim for compenstation too.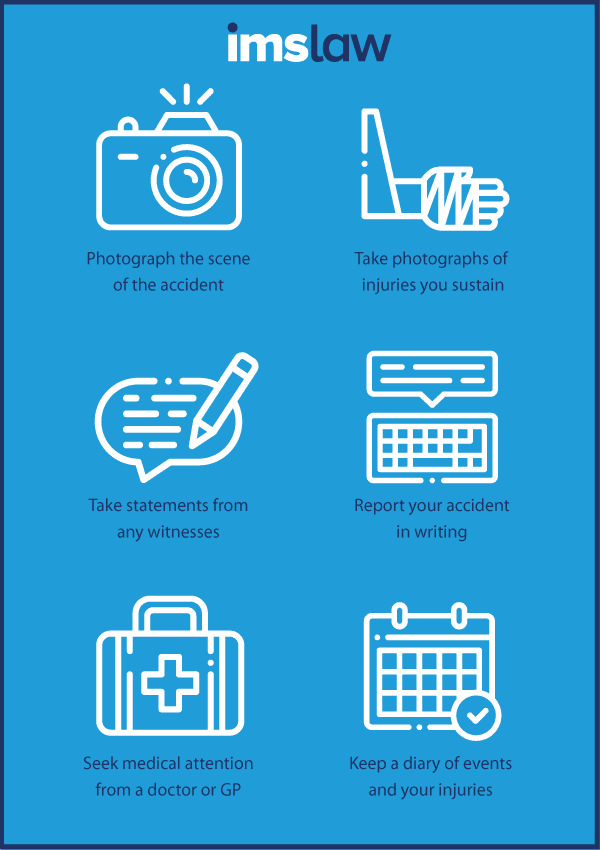 Photographs of the scene of the accident
If you have an accident, it's really helpful to take photos of the scene at the time of the event. Dependant on the type of accident, the scene could change or be altered, so where possible it is best to capture the situation at the time of the accident itself.
There is no such thing as too many photos. If in doubt, it's better to take too many photos than not enough of anything you feel may be relevant when making your claim. This can include the surrounding area as well as the scene of the accident itself.
Photographs of your injuries
If you have sustained visible injuries, take photos at the time of the accident as well as through recovery. Sometimes injuries can be worse after the event and the seriousness of the impact may only surface days or even weeks after you had the accident. It helps to document your injuries as times goes on and again, there is no such thing as too much information; it can all help towards building a strong case for your claim.
Statements from people who witnessed the accident
If there were people present at the time of your accident, it is extremely helpful to get a statement from them. Take a note of what they saw and be sure to note their name and some contact details in case your solicitor needs to get in touch with them to verify your statements. A clear and accurate witness statement can really help build a strong body of evidence.
Report your accident in writing
This depends on where your accident occurs, but it can really help to officially report your accident to the responsible party. For example, if this happened in a gym, you could report it to the management who should have an official logbook and accident reporting procedure in place.
If this happened in a public place, for example in a shopping centre or car park, you need to find out who owns and is responsible for the upkeep and report it to them directly. If you are doing so by post, it would be a good idea to send the letter by recorded delivery to show that the delivery was received by the sender.
Medical report by a paramedic, doctor or GP
If a paramedic attends to you at the scene, you should receive a medical slip detailing the accident and a paramedic report. If you do have to attend a hospital, your visit will be recorded officially on the system which can be requested later on.
If you don't attend hospital or receive any other medical treatment at the time, but later visit your GP, your visit will be recorded on your medical records and can be requested as part of your claim evidence by your solicitor.
Keep a diary of events including your injuries
Injuries may only last a few weeks, or may last years. It's important to keep notes on any ill effects you suffer as a result of the accident, as well as dates you attended your GP or hospital if you do so.
By keeping a record of your injuries and other details, such as loss of earnings or expenses you incurr, this will make it much easier to build a case for your claim.
What if I don't have all of this information?
Don't worry, we are still able to help you; we understand that when you have an accident, often the last thing you think about is gathering evidence, especially if you are in pain. Although you can still make a claim without all of these pieces of evidence, they can greatly speed up and improve your chances of a successful claim.
How cases are funded?
At IMS Law our claims are funded on a No Win, No Fee basis, which is known as a 'conditional fee agreement.'
With a No Win, No Fee agreement, there are no financial risks to you. You do not pay any upfront costs to start a claim for compensation and you will only be required to contribute towards your legal fees if your claim is successful.
In the event your claim is unsuccessful, you will not have to pay us anything. We take the risk of pursuing your claim, because we have the experience to know when you have a strong case, and the confidence that we'll be able to make it successful for you.
If we are successful in securing a claim for compensation, the contribution you make is capped at 25% from the award you receive. At IMS Law we fully explain funding arrangements during our initial consultation.
How compensation is calculated?
The amount you can claim will vary depending on your circumstances and the level of injuries you sustained. Awards depend on the length of time you suffered from injuries, the extent of the treatment you required and the impact the injuries had on your everyday life.
Our personal injury team will be able to give you a valuation of your claim once we have received completed medical evidence. Wherever you are in the UK, our team of solicitors in St Helens can instruct specialists across the country for any medicals you may require, and any additional support such as physio.
What damages can I claim for?
General Damages: This award of compensation relates directly to your injury or illness and covers any pain and suffering you have endured, as well as any loss of amenity.
What is loss of amenity? Loss of amenity simply means your quality of life has been negatively impacted due to the accident. This could include things such as the loss of ability to travel, compete in a sport you previously enjoyed, use of equipment to perform your job or enjoy a hobby, or any other area of your life which has been directly affected by an injury.
The amount you are awarded will therefore depend upon the severity of your injury or illness and the extent to which your quality life was affected following your accident.
Special Damages: The second part of a compensation claim is special damages. They are designed to help you get back to the financial position you would have been in, had you not been involved in an accident. Not only do they cover expenses that you have incurred as a result of your accident, but they also cover any expenses you may have in the future. These can include:
Loss of earnings/future loss of earnings
Treatment, rehabilitation and care costs
Aids, equipment and adaptations
Loss of property
Travel expenses
Will I have to have a medical in order to make a claim?
In most cases, you will need to attend a medical examination to help us understand the injuries you have sustained as a result of your accident. After your appointment, a medical expert will prepare a report on the injuries you have sustained and this will help us to accurately value your claim and ensure you receive the correct level of compensation that you are entitled to.
It will also enable us to organise the best course of treatment to help you get back on your feet following your accident.
Once you make your claim, we will instruct a medical specialist to conduct your examination. We always try to make this as convenient for you as possible, but if you have any issues getting to your medical, just let us know. If you require travel expenses to get there, you will be able to add this to your claim.
How long does it take to receive compensation?
The length of time it takes to successfully settle your case depends on a range of factors. This can include, but is not limited to:
The seriousness of your injuries
The prognosis period (how long it is estimated you will need to recover fully, if at all)
The time it takes to gather necessary evidence for your claim
Whether blame is accepted by the other party
Your claim could be settled in a few months, but in the case of more serious injuries where ongoing medical treatment is required, it can take longer.
IMS Law are dedicated to settling your claim for a fair amount that is reflective of your injuries and other expenses. Whereas other companies are focused on turning around cases quickly, even advising you to accept lesser amounts, IMS are entirely focused on getting you what you deserve, both in terms of compensation and the treatment you need.
How long do I have to make a claim for compensation?
Adults have three years from the date of their accident to make a claim for compensation. If a claim has not been settled or Court Proceedings have not been issued by the 3rd anniversary of the accident, a claim may be considered 'time-barred' leaving you ineligible for compensation.
For children who have sustained injury as a result of an accident the three-year time limit still applies, however a child has three years from the date of their 18th birthday in which to process a claim.
A claim processed after the date of a child's 18th birthday must have either settled or Court proceedings issued before they reach their 21st birthday. Again their claim may be considered 'time-barred' leaving them ineligible for compensation if either of the above has not been completed.
Free initial consultation with our specialist accident claim solicitors in St Helens
At IMS Law we offer a free initial consultation. Get in touch with our friendly team today on 01744 612549 for instant, no obligation support, use our live chat function to speak to a specialist now, or get us to call you back using the tab on the right.
Where to find us
Visit:
Mon to Fri – 9:00 to 17:00
IMS Law
Corporation Street, Saint Helens WA10 1SX, UK